"BIG THINGS Happen In The Center!"
HEY THERE FAMILY OF GOD! We Are THRILLED to be coming to you this Month! It really is a privilege to write to you and serve you in bringing to your precious hearts what God has prepared for you! HE LOVES YOU SO MUCH! And He knows and Sees all that you are doing and sacrificing for The Kingdom of God! HE UNDERSTANDS SACRIFICE! Really read this . . . HE UNDERSTANDS SACRIFICE! HE GAVE HIS ALL throughout His Life here on Earth! So, when He sees His Family serving and sowing into His Kingdom and Ministry that is still going on through His Body . . . It blesses His Heart and He Is Grateful that His Body is serving HIM! Jesus' Ministry never stopped when He left Earth! It Is Still Operating, Loving and Multiplying! Through You and I! Hallelujah!
The Feast of Passover is such a MARVELOUS Time of year for God's People! What a Feast of God to REMEMBER what God has done over and over for His People and what JESUS did for us! Glory To God!
Did you know that the Hebrew Children all being in slavery and them COMING OUT (Raptured) out of Egypt was TOLD TO SOMEONE over 400 years prior to? Yet, SOMETHING EXTRAORDINARY happened IN THE CENTER that changed everything for us! And with that, we begin with the THREAD of what The Lord wants to talk to you about this Month!
"And He brought him outside [his tent into the starlight] and said, Look now toward the heavens and count the stars—if you are able to number them. Then He said to him, So shall your descendants be." Genesis 15:5
"The Lord told him, "Bring me a three-year-old heifer, a three-year-old female goat, a three-year-old ram, a turtledove, and a young pigeon. 10 So Abram presented all these to him and killed them." Then he cut each animal down the middle and laid the halves side by side; he did not, however, cut the birds in half. '' Genesis 15:9-10 NLT
"After the sun went down and darkness fell, Abram saw a smoking firepot and a flaming torch pass between the halves of the carcasses. 18 So the Lord made a covenant with Abram that day and said, "I have given this land to your descendants, all the way from the border of Egypt to the great Euphrates River." Genesis 15:17-18 (NLT)
Abram (later Abraham) took the animals that The Lord asked for and split the animals down the center of their bodies. What was going on? It was a BLOOD COVENANT CEREMONY! Covenant was being cut and performed. AND GOD, HIMSELF, WAS THE ONE WHO WALKED IN THE CENTER OF THE ANIMAL'S BLOOD! AND WHILE FATHER DID THIS He was making Promises in Blood to Abram. Part of the Blood Covenant Ceremony is that Covenant Animals must be cut and then a CENTER of Blood must flow. The Covenant Representative (in this Wonderful Case it was Father God Himself) was making a Covenant with mankind and HE WOULD WALK IN BETWEEN THE TWO PIECES OF FLESH as a smoking Firepot and a Flaming Torch! Fire and a Cloud (Smoke) would be the "symbols" that the Angel of The Lord would be within to escort Abraham's kinfolk many years later.
Father God walked in the CENTER of those animals in BLOOD making a Covenant with Abram and all of his heirs, to which YOU AND I ARE A PART OF! If you have surrendered your life to Jesus and made Him The Lord of your life, YOU are an heir in the family Line of Abraham! Isn't that marvelous! YOU and I were wrapped up in that Covenant that day and in the Covenant that would be Cut with another Animal and Representative.
This had to take place for God to have a Covenant with mankind and "get back into" a place with mankind, for Adam lost everything in the Garden of Eden when he committed High Treason with the devil and followed what the devil said and not what Father had told him not to do. God wants us SO MUCH that He was willing to do whatever it took to get us back! THANK YOU FATHER! Even to be The One to walk in The CENTER of The Blood Covenant Ceremony!
Covenant!

Beriyth (ber-eeth') A compact (made by passing between pieces of flesh), league. To cut, To divide.
There is SO MUCH to teach on The Blood Covenant Ceremony! (For greater understanding and insight to this Ceremony that had to be fulfilled so we could be free in Jesus, please get my book, The Bride and The Blood Covenant Ceremony!) When God walked through those cut in half animals and through their blood, God bound Himself and His Word to mankind and He did it in the CENTER of blood. This would bind God to His Word FOREVER!
"The soldiers also nailed two criminals on crosses, one to the right of Jesus and the other to his left." Matthew 27:38 (CEV)
THE CENTER OF HISTORY
We then move hundreds of years from that Blood Covenant Ceremony to a time that we are mostly familiar with and that is the Time of Jesus walking the Earth. There would be a New Covenant that would be paid for IN BLOOD again. Yet, it would be in the "Animal" of The Lamb of God, God's Lamb at The Feast of Passover—Jesus! Our sins were forgiven, death, Hell and the grave were all paid for by this sacrifice of God. For by His stripes on His back we were healed, all the curses of the old was paid for in full so we wouldn't have to have them . . . and SO MANY MORE beautiful things were paid for by Jesus!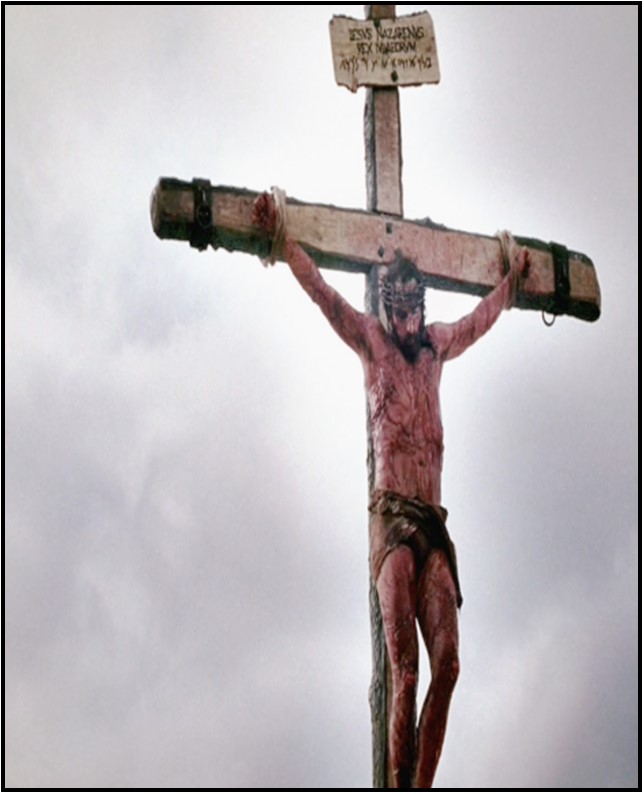 JESUS would finally, after great persecution the night before, through the night and that day, go to the Cross. He would carry His Cross to Golgotha and would be nailed to it in between two men who were criminals. (Or what The Blood Covenant Ceremony would require . . . He would be between 2 pieces of flesh!) Jesus would be bleeding and in the CENTER of "two pieces of flesh," two men, who had also been cut and was bleeding from the nails in them too! Our amazing Father made sure that EVERYTHING was paid for by His Firstborn, Jesus, FOR US!
He made sure that ALL of The Blood Covenant was fulfilled!
The Covenant Animal, The Lamb, Jesus, Who was also The Covenant Representative chosen for The Family of God . . . was also The Covenant Blood that was shed. Who also completed The Walk of Blood by walking through His Own Blood in the various places of persecutions, beatings and His scourging.
Jesus would have to be between two cut pieces of flesh and that CENTER have Blood in it. WOW! There's so much more and He fulfilled this Ceremony in His Own Blood and by being in the CENTER! Hallelujah!
Walking in The CENTER
When we were looking at the Blood Covenant Sacrifice that was Cut between Abraham and God in the beginning of this Teaching to which God Himself walked in the CENTER of, we mentioned that Abraham's descendants were also talked about by Father to him. Isn't that something that in the midst of God walking through this Blood Covenant Ceremony with Abraham for mankind, God mentions there is going to be a People of His that in the future will be in slavery. Yet, God also tells Abraham that those same People WILL COME OUT OF SLAVERY PROSPEROUS!
"Then the Lord said to Abram, "You can be sure that your descendants will be strangers in a foreign land, where they will be oppressed as slaves for 400 years. 14 But I will punish the nation that enslaves them, and in the end they will come away with great wealth." Genesis 15:13-14 (NLT)
Father walks in the CENTER of The Blood Covenant Ceremony. Later, God, Who Is Jesus, walks in His Own Blood and then is in THE CENTER of The Blood Covenant Ceremony in His Blood on the Cross and Father tells Abraham in the midst of The Blood Covenant Ceremony about Abraham's People who "will come away with great wealth."
Those People were the Hebrew Children who were slaves in Egypt and Moses was commanded by God to lead them out of Egypt and out of slavery. And a VERY significant part of this AMAZING TRUTH in The Bible is that when the Hebrew Children left Egypt with all of that prosperity from the Egyptians, they came to the place of The Red Sea. Pharaoh and his army were coming after God's People and they were facing The Red Sea and couldn't go anywhere! It would LOOK like in the natural that they were trapped and were going to die or be taken as captives again and possibly persecuted more!
But God had another PLAN! God MADE A WAY on that DAY OF NISAN 21 on God's calendar and WITHIN THOSE DAYS OF PASSOVER! God opened up The Red Sea and God's People walked right in THE CENTER of it on DRY GROUND!
This miracle was a type and shadow of God's People walking through two sides of RED on that day! They walked through RED that day of "21" and they were FREE, RICH, and NO ONE WAS FEEBLE or SICK!
Psalm 105:36-38 "Then he killed the oldest child in each Egyptian home, their pride and joy- 37 and brought his people safely out from Egypt, loaded with silver and gold; there were no sick and feeble folk among them. 38 Egypt was glad when they were gone, for the dread of them was great."
BIG THINGS HAPPEN IN THE CENTER
Father Abraham knew this for he witnessed and partook and benefited from God doing something EXTRAORDINARY in his life by God being in The CENTER of a Blood Covenant Ceremony. God escorted His People out of Egypt, out of SLAVERY with all the wealth of their oppressors in Egypt and The Bible says that no one was feeble! Glory! Family that is telling us that . . . No One Was Weak! No One Was Sick! No One Was Weary! No One Was Tired! No One Was Frail! No One Was Lame! No One Was Puny! God marched them right out of Egypt to the RED SEA and they went right through it . . . IN THE CENTER!
Jesus paid for EVERYTHING to be FREE for US! Yet, there was a PLACE that He had to be in and that was also, THE CENTER! When I think of this it still amazes me! Jesus HAD TO PAY for The Blood Covenant Ceremony for His Bride, The Church! That TOO had to be fulfilled! Our Jesus hung on the Cross between two men . . . two "pieces of flesh" that is REQUIRED in The Blood Covenant Ceremony! Jesus was not hung on the Cross on the right side nor the left side. He was placed EXACTLY where He HAD TO BE . . . IN THE CENTER!
GOD WAS IN THE CENTER In The COVENANT WITH ABRAHAM and GOD WAS IN THE CENTER between two criminals on a Cross AT CALVARY! Let us say it again,
Big Things Happen At THE CENTER!
There is another CENTER that we are thrilled to tell you about and that is the one that has been forming in the Heart of God and His People in the Mountains of Hico, WV. There is a CENTER that is coming! A Place that is being built for The Lord Jesus with His Name on it! Where The Book, The Bible, IS the way at this CENTER. Where The Uncompromising Truth Is Told and Told and Told and Told.
The Lord has asked for something very special and it's a Place where He, The Word of God, is First Place. Not the things and opinions and culture of this World. No, a Place where He, His Word, is The CENTER. He said The CENTER will be an "Ark" and a "Fortress" for people to run into in these Last Days. In both the Identities of an "Ark" and a "Fortress" there are Places to which God's People who desired to be rescued and protected were within. These are Places to which one is sheltered and yet prepared for Battle of what's on the outside of The Fortress. Yet, how wonderful it is to have Jesus, The Word, The Center, to be The One to guide, direct, teach and command in His Ways and Word to His Troops! The Power . . . The Love . . . The Strength . . . The Protection . . . The Fire . . . The Provision . . . IS LIMITLESS! IN THE CENTER! IN THE CENTER is WHERE you see God BEING HIS BEAUTIFUL GREATNESS! And in His CENTER Jesus, The Word will be DISPLAYED AGAIN!
In these Last Days being in The CENTER of Jesus, The Word will be crucial! ONLY The Word, Jesus, will be what will keep us! There is a GREAT DECEPTION that is operating RIGHT NOW in the Earth. The devil's plan that he has in operation right now is to convince people of many things. And if our attention is NOT ON what He says in His Word, people will follow the fast flowing stream of this culture and time around us. It is easier to follow WITH THE STREAM than it is to PADDLE UP STREAM.
The Word of Life CENTER is being built for just that. It is being built as He has asked of us to do for HIS WORD to BRING LIFE and KEEP LIFE flowing to His People. It is a Place of God where Jesus, The Word, is THE CENTER. PERIOD. If The Book says it, then that's The Answer. It's The Place of God for The Family of God. It's The Place of God for Him to Love on His People with Truth, Power, Training and FIRE OF HIM once again in the Earth!
THE GOODNESS OF GOD!
HE GREATNESS OF GOD!
THE WORD, THE TRUTH OF GOD!
THE FIRE OF GOD!
JESUS, THE WORD, HAS ALWAYS BEEN
AND WILL NOW BE AGAIN . . .
AT THE CENTER!
THE WORD OF LIFE CENTER!
Things are getting ready here on the Property of 19 "Mahanaim" Place (Two Camps, Two Armies) of Hico, WV in preparation for the First Building to arrive here on the land. The Building is scheduled to arrive in June 2021. If The Lord Jesus is speaking to you about being a part of this Mission in person, pray and ask Him to give you a Witness and then contact the Ministry. If The Lord is leading you to be a part of this Mission of God in Prayer and Financial Support it is our honor to come into Covenant Partnership with you as you pray and give to this Mission. We become a Family of The King and we DAILY pray and speak The Word over you and your family. You will join with us, as Covenant Partners with The Lord's Heart and Will in this Mission.
The Word Of God Is THE CENTER Of All We Do!
This is a very important Mission to Him. And He is Calling His People at this Time to do very specific things. And to do His Will All The Way! To Teach His Word, with No Compromise, Like Jesus Did . . . All The Way! To Love People, Just Like Jesus Did . . . All The Way! To Give Him A Place For His FIRE to Burn, All The Way!
The Hebrew Children Found their RESCUE and God's Help and Provision IN THE CENTER!


Mankind Found SALVATION, HEALING and LIFE in Jesus being IN THE CENTER At The Cross!


Abram Found the FAITHFULNESS, PROVISION and FIRE of God in THE CENTER!


What Does Jesus, The Word, Have In Store FOR YOU At This Center . . . The Word OF Life CENTER!
Until Next Time . . .
Keep Getting Ready, Jesus Is Coming! - Jamie
"We proclaim to you the one who existed from the beginning, whom we have heard and seen. We saw him with our own eyes and touched him wi th our own hands. He is the Word of life." 1 John 1:1 (NLT)


"From The tribe of Issachar, there were 200 leaders of the tribe with their relatives. All these men understood the signs of the times and knew the best course for Israel to take." 1 Chronicles 12:32 (NLT)


JESUS TOLD HIM, " I AM THE WAY, THE TRUTH, AND THE LIFE. NO ONE CAN COME TO THE FATHER EXCEPT THROUGH ME. JOHN 14:6 (NLT)


"And you will know the truth, and the truth will set you free." John 8:32
Where are you with Him, The One that Loves you with all of His Heart? If you are not where you need to be it's time to get things right. Just say this prayer and mean it with everything inside of you,
"Jesus, I am not where I need to be with You. Please forgive me of all of my sin. Jesus I believe You died on a cross and rose from the dead for me. I confess, I am a sinner and I need a Savior. Jesus, please come into my life and save me. Please fill me with The Holy Spirit and Power and use my life, use me. I make You, Jesus The Lord of my life. I will follow You all the days of my life in Jesus Name!"
If you said that prayer, please let us know here at the Ministry. We want to send you some Free Resources to get you started on your way with The Lord and if you need a Bible, please let us know and we will also get you one for Free too.
Welcome To The Family!
We Are Grateful Covenant Partners and Friends! Thank you for ALL YOU DO FOR OTHERS through this Outreach and Mission! We love you and are praying for you! We are WITH YOU and Victory IS YOURS in Jesus Name! We Appreciate You So Much! We Are Very Grateful!
The Feast of Passover Offering
"Three times a year all your men must appear before the LORD your God at the place he will choose: at the Feast of Unleavened Bread (Passover), the Feast of Weeks (Pentecost) and the Feast of Tabernacles. No man should appear before the LORD empty-handed: 17 Each of you must bring a gift in proportion to the way the LORD your God has blessed you." (Deuteronomy 16:16-17)
Thank You For Sending Your Passover Offerings To JCM! The Lord Bless You In Jesus Name! Please Write "PASSOVER" On Passover Offerings and We Will Bring Yours Along With So Many Others Before The Lord and Pray Over You And Your Family During This Holy Time Of The Year On God's Calendar!
NEW TEXT TO GIVE
Type "GIVE" to (833) 605-7180
Follow One Time Instructions To Set Up Your Account!
Thank You For Giving Into The Kingdom!


Join Us On Facebook LIVE on Sundays on JCM'S Page!
Or IN PERSON IN HICO! 10:30 AM!
The Word of Life Center
19 Mahanaim Place
Hico WV 25854
COME GROW WITH US!


Discipleship Schedule
APRIL 2021
ALL CLASSES CAN BE SEEN ONLINE ON FACEBOOK and
IN PERSON IN HICO, WV IN APRIL!
Thursday, 15 April 2021—7:00 PM
Thursday, 22 April 2021—7:00 PM
Contact JCM or Shepherd Donna Legg at Donna@jamiecarte.org For More Information! And When You Have Watched A Class, For Credit, Please Contact Shepherd Donna!
LIMITLESS IN GOD TEACHINGS IN APRIL!
THE CENTER IS COMING!
We are in the midst of planning the Building of The Word of Life Center in Hico, WV! We have on order a 90 X 100 Building for The Glory of God!
If God Is Directing You, Come Build and Grow With us!